H IS FOR HER x SEVILLA SMITH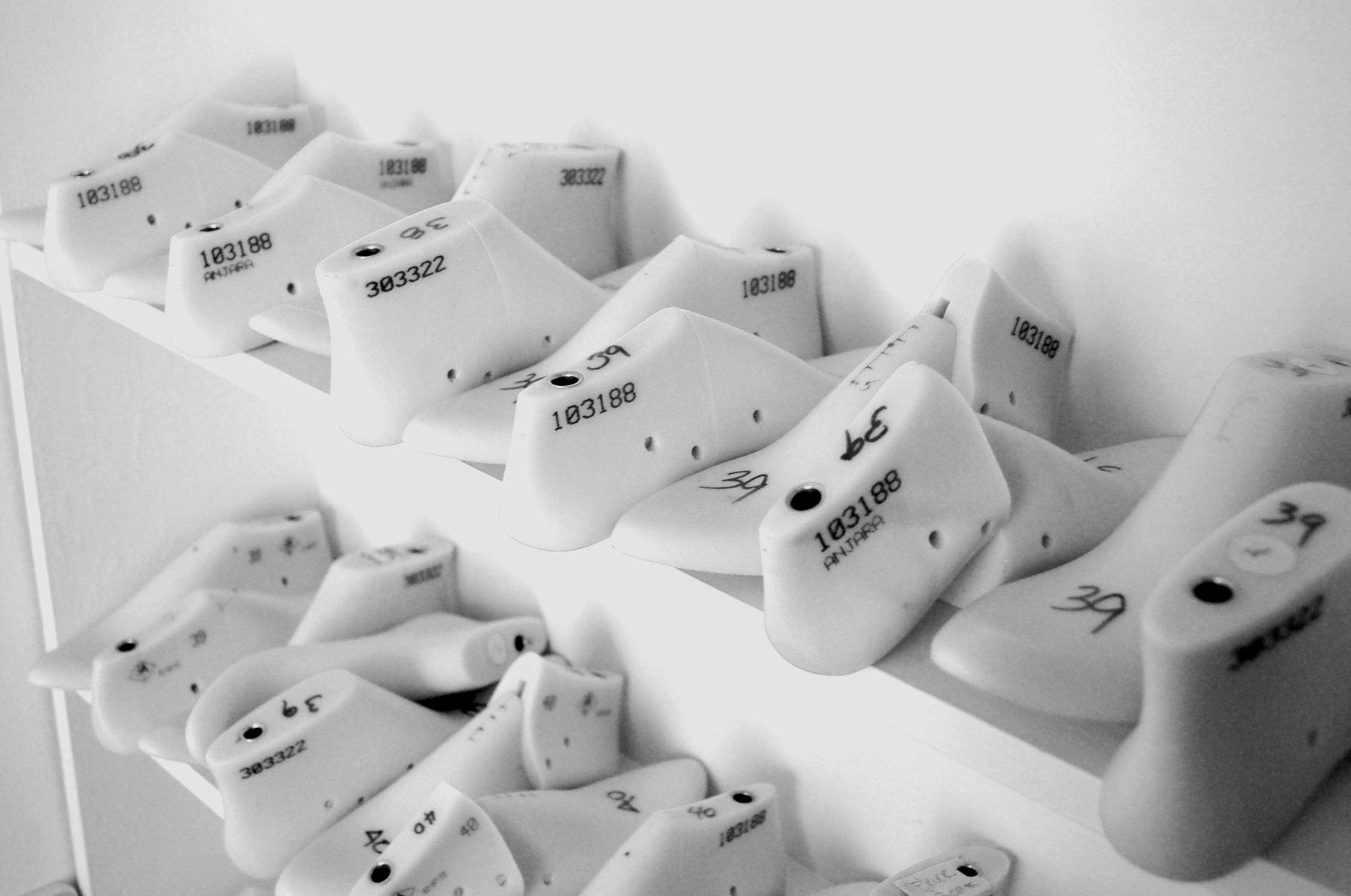 choose your leathers, take advantage of the privilege of having a pair of handcrafted to order shoes, savor them, wear them...love them.
Faye Sevilla Smith learned her craft in the back of a tiny shop in Barcelona. Her instagram is full of personal stories, detailing travels, time spent with her family, and of course, the art of making shoes in a way that has been all but lost. I purchased my first pair last year and after a few days of working them in I found that they were the most comfortable shoes I'd owned. (Side note, UMI the dog consumed one of those shoes almost entirely, so I was forced-ahem-to purchase another pair, and I love it just as much as the first!) I have a limited understanding of why this is, but I'm going to attempt to explain. Each shoe is handmade with one piece of leather (in most cases) and without any stitches. This allows the leather to stretch and form to each person's unique foot. The sole is leather, and the heel is solid wood. It ends up feeling like you're wearing moccasins, or 'earthing.' To top it off, they can be re-soled after many years of use, and they're gorgeous.
What I love about purchasing handmade goods is the story that comes along with it. Faye is a true storyteller. She shares with us details about her process, her travels, and her life in choosing to have fewer items along the way. There is a richness in approaching the world of business in this way. It translates to the styles offered by the brand, fully customizable, and so classic that they'll simply never go out of style.
1. Tell us about what you do. What is your business or craft?
Hey there... I am a shoemaker by craft, shoe salesman by business, and shoelosopher by accident!
2. What inspired you to begin?
I would say it wasn't so much inspiration that pushed me to begin, but necessity and discontent. I was a new-ish mom and still working on films (wardrobe) which required me to be out of town for months at a time, panickedly rushing home to catch a waking moment with my baby. I could feel time fleeting so quickly and knew I had to do something if I wanted to be present in raising my son.
So here I offer my shoes…
made in the attic of my house in Philadelphia, and sometimes in an apartment and workshop in Barcelona, possibly even a Riad in Marrakech..truly wherever my suitcase of tools and leather can take me. The spirit of travel inspires my work with its beauty and rigor.
3. What was the scariest part about starting your business and how did you move through that fear?
The scariest part is not knowing if you are investing your time, money, and effort into something that will succeed. When you are starting a business, it is all consuming and it doesn't just affect you, it affects everyone around you. Your husband who helps you raise the funds and covers extra home duties typically shared, your son who helps by playing quietly when you are focused on work and present but occupied, your sister who listens to every idea that comes across your brain. You bring all your people on a difficult journey and it is scary to think that maybe at the end of it, there was nothing there.
4. I still feel that way at times. Seeing other women who have done and are doing it really helps me. Who is a woman who inspires you?
I have to say that Liz Pape of Elizabeth Suzann has been the most inspirational throughout this shoe endeavor. I started collaborating with her early on with some collections for ES and that opened the door to her aesthetic influence for sure. But I wasn't prepared for how her voice would inspire me to want to create a business with better goals than simply monetary ones. Liz uses her platform not to just sell, but uses it to influence how to consume. It may sound the same, but it really isn't, the latter is a way of living. Inspiring how to consume sometimes doesn't mean better sales, but that's what happens when there is a bigger picture on the horizon.
5. What are some of the key challenges in running your business?
The biggest challenge for me has been labor. Shoemaking is a serious craft and the people who train for it aren't usually wanting to work for someone else's design. Plus we make our shoes with usability first, then aesthetics, then tradition of the craft. This usually isn't the methodology of most craftsmen.
6. What has been the greatest reward in starting Sevilla Smith?
The greatest reward has been being able to spend time with my son. He has not been sick once without having me by his side. What a fulfilling privilege that is!
But in second place is meeting so many wonderful people. Our clients are really great! They send us pics of themselves in the highlights of their days; they write us haikus, they paint us beautiful pictures! Appreciation for our work is a great reward!
7. What keeps you inspired and how to you change things up?
Oddly, I think I spend more time trying not to change things. Lean living and minimal closets of the past and of constant travel inspire me to look at my designs to finesse them into as classic and versatile designs as possible. So rather than change things, I try to find inspiration to see what I could have done better.
8. What do you want your business/craft to look like in three years?
I hope in 3 years we are at least at the same level. I know that growth is not necessarily better, so it is hard for me to wish for that without pause.
9. How about a long game? Do you have a dream beyond doing what you love?
I dream about being able to inspire other women to find what it that truly fits into the life they want to lead.
I want to create a brand that is not just a source of consumption, but a force for doing better.
10. How have you grown since you started?
This business has helped me grow to be the parent I like being and to have it be driven by myself. I no longer have so many outside forces forcing me to make choices that I do not like.
But also, it has really changed the way I consume. I now see that work that goes in to products whereas before I may have seen label before work. It is an appreciation that has affected everything from where I live to what I eat.